Loading Software for Bulk Carrier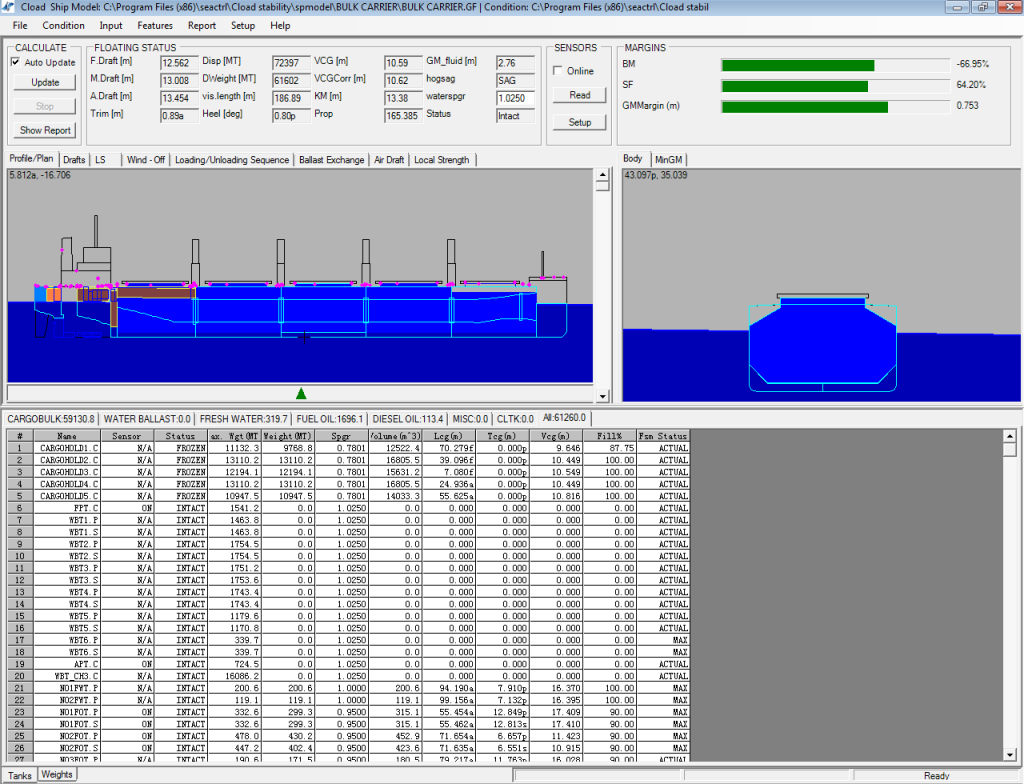 General User Interface – CLOAD for Bulk Carrier
Key Features
One hold damage check
Generation of loading/unloading sequence
Generation of ballast exchange sequence
Cargo hold load limit vs. draft
Shear force correction against alternative loading
Simulation of timber loading
Grain heeling moment and stability check
Output standard grain loading report of USA/Canada/Australia
Grain Heeling Moment and Stability Check
Show "Load Status", "Grain HM", "S.Fact", "Timber Height" and "Deck Load" columns for bulk vessel in Tank Dialogue Table.
Automatically update grain heeling moment for each cargo hold along with the tank loading by selecting deferent end trimming status for stability checking.
Loading / Unloading Sequence
Load, edit and save loading sequence files (.Lsq) and create any number of steps from initial to final configurations. Tank and draft data are represented for each step.
Ballast Exchange
Show the ballast condition and change from step to step throughout a loading sequence.
Load, edit and save ballast exchange files (.bex) with such data. A graphical representation is provided, and sequences can be re-played for review. Reports can be generated, and the ballast pump capacity is editable.
Local Strength
The Local Strength Checking determines if the cargo load in each individual hold exceeds structural strength limits for a given draft. CLOAD checks if current mass and draft data for each cargo hold exceed local strength limits.
Timber Loading
Simulate timber loading conditions that affect ship stability and equilibrium.
Load timber to cargo hold in tank dialogue frame and load timber on decks in Timber Loading View frame.
Print timber loading report.
Deck cargo Loading
Simulate deck cargo loading conditions.
Print deck cargo loading plan.
Deck cargo windage calculation and stability check.
Deck cargo weight check and alarm.
Steel coil Loading
Simulate steel coil loading conditions.
Input particular of one steel coil (weight, length, and diameter).
Calculate total weight, total number and cg of each steel coil group or one hold.
Allowable loading tiers.
Deck cargo weight check and alarm.